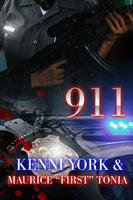 Kenni York and co-author Maurice "First" Tonia re-release 911
Kenni York and Maurice "First" Tonia bring you the same great story with an updated look. 911 is set for re-release on February 14, 2022! This fast-paced drama is slated for film production November 2022 via executive producers Drew Sidora and Maurice "First" Tonia.
Book Synopsis:
Local Paterson, New Jersey police officer, Jillian Ashe, is battling her own demons and unresolved issues. Although she has dedicated herself to ridding the streets of the evil that once tainted her childhood, her intentions turn fatal once lust causes her to get in over her head. Unscrupulous decisions shake up the police force and mistrust runs rampant throughout the city. No one's certain of who rests on either side of the law and even Officer Ashe is unclear of who she's become and what she really wants out of life. Safety becomes a thing of the past and no one is invincible once 911 gets involved.
Order Now
Kenni York News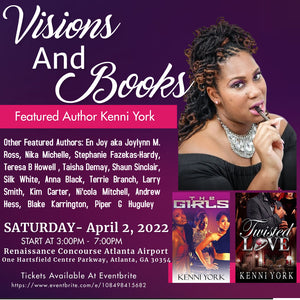 Upcoming Signing: Visions & Books Event
Visions and Books 2022 promises to be an epic experience for ALL readers.
Details:
April 1- 2, 2022!!!!
Location: Renaissance Concourse Atlanta Airport Hotel

Featured Authors: Kenni York, En Joy aka Joylynn M. Ross , Nika Michelle , Stephanie Fazekas-Hardy , Silk White , Author Shaun Sinclair , Taisha Demay , Andrew Hess , Kim Carter aka Kim Herron , Anna Black , Teresa B Howell , Larry Smith , Ni'cola Mitchell , Terrie Terrie 'BossLady' Branch , Blake Karrington , Piper G Huguley
Event Perks:
*Eat & Greet
* Author Signings
* Karaoke Bash and more!!!!
Get Tickets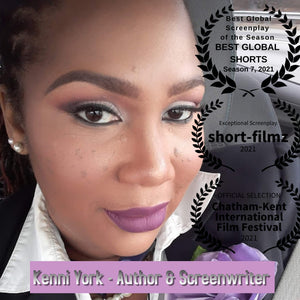 Kenni Pens Award Winning Script
Kenni's original script, Call Me Dre, is turning heads and wowing the masses. In 2021 Kenni secured:

Two film festival wins...
1. Best Global Screenplay of the Season from Global Shorts
2. Exceptional Screenplay from Short Filmz
AND
One official festival selection with
Chatham-Kent International Film Festival

It is a winning season forAuthor Kenni York's pen!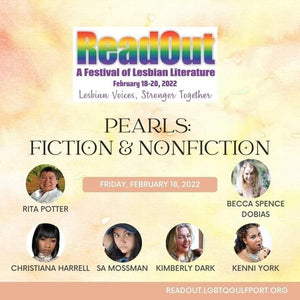 Kenni York featured during 2022 ReadOut Lesbian Literature Festival
Join ReadOut on 2/18 for fiction & nonfiction Pearls (prerecorded readings), with authors Rita Potter, SA Mossman, Becca Spence Dobias, Kimberly Dark, Christiana Harrell, and your favorite author, Author Kenni York.
Get Access
Add a title or tagline
Share blog posts, products, or promotions with your customers. Use this text to describe products, share details on availability and style, or as a space to display recent reviews or FAQs.
The Secrets That Bind Movie Trailer